Thank you so much, Brushy Creek Baptist Church in Easley, for inviting our family to do a program for your senior conference!  We had a lot of fun. We loved the lunch–especially the macaroni and cheese. The rolls were also very good.
We all enjoyed singing and playing our instruments.  Peter loves playing the piano, and he enjoyed the opportunity to play for your congregational singing too.  The preacher did a good job.  He had a very funny sense of humor.  One of my sisters couldn't stop laughing, and her face turned as red as an apple.   He brought out some interesting things from 2 Corinthians 4.
We liked the sign in your church.  We took a picture of it.  We also think that's a GREAT photo of Daddy and your pastor for the seniors, Rodney Graham.  We also enjoyed the beautiful bouquet of flowers that your church gave us.
It was fun to see the firetrucks practicing in the parking lot.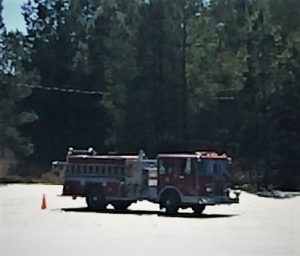 Thank you to the Reverend at your church, Rodney Graham, for your very kind letter to all of us. Thank you for telling Daddy that he could put your words on our website. Here is a part of your letter: Your letter was really touching to Mama (It made her cry). It sounds like you grew up in a special family.
… Having your family minister to us through scripture, hymn stories and songs was exactly what we needed. I highly recommend your family and ministry to any church, Christian school, nursing home, or organization that seeks to honor God through word or music …
---
P.S. Thanks for the candy bar!